Official Opening of the Western Australian Maritime Museum, December 2002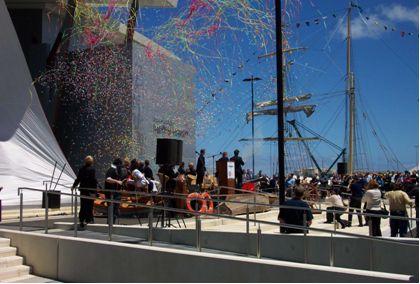 Client: WA Maritime Museum
Event Style: Official Ceremony and Public Launch Guest No's: 8,500 approx
Duration: Lead Time 3 months – Event 8 hours
Our Role: Happenings was contracted to undertake the co-ordination and Management of the Opening Ceremony and 'Carnival on the Wharf' for the New Maritime Museum. This event included three main elements; official proceedings, morning tea for invited guests and dignitaries and free public entertainment on the wharf at Victoria Quay, in front of the Museum. Our contract covered conceptual planning of the event, sourcing of suitable entertainment for the ceremony, carnival amusements, booking subcontractors for lighting, sound, staging and marquees, set theming, stage management and security. Working closely with the SES, Police, First Aid, FESA and Wharf management, a detailed Risk Management Plan was developed specifically for the event. In addition, corporate catering and well as outdoor food vendors were sourced. Coordination of an RAAF flypast following the official proceedings was also coordinated prior to the event and managed on the day by Happenings.